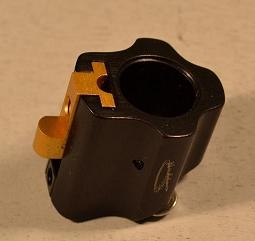 Quick Disconnect Palmer Unit
ITEM CODE: QDPU03-0N2
The TAD Quick Disconnect Quick Disconnect Palmer Unit operates like a prosthetic Wrist Unit. It is designed to be attached to the palm area of a custom W.H.O. using the two stainless screws provided. It acts as the platform accepting the N-Abler II™ or the N-Abler IV ™ allowing persons with hand dysfunction or partial hand amputation the opportunity to use any and all of the N-Abler™ custom tools and implements.
Specifications
Material: Body – 7075 Aircraft Aluminum Anodized. 316 Stainless
Steel ball bearing, set screw and spring.
Weight: 32 Grams
Body Length: At Bottom 1 ¼" tapered at the rear at 45° to 11/16" at the Top.
The front face is at 90º.
Body Width: 1 ¼"
Attach Site: Palmer area of Custom or off the shelf W.H.O.